You may remember Kent County Council (KCC)'s public consultation in 2017/18 on proposed mineral reserve sites across Kent to form part of their draft Mineral Sites Plan. In total nine of the submitted sites were selected as a possible location for excavating minerals and Chapel Farm in Lenham was one of them.
The originally proposed site at Chapel Farm was a substantial 61 hectares in size and had an estimated mineral (soft sand) reserve of 4 million tonnes. Based on an extraction rate of 150,000 tonnes per year, the site would take up to 26 years to fully excavate. The proposed site covered land to the east and west of Chapel Farm buildings and Royston Manor as illustrated on the map.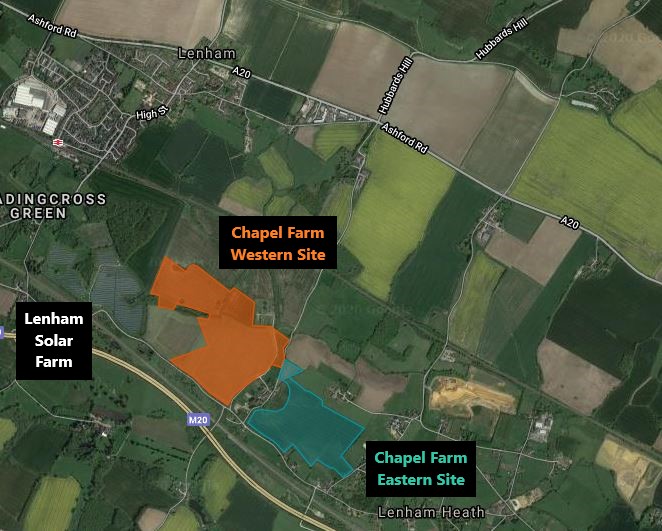 The Lenham Archaeological Society (now known as Lenham Heritage) have studied the area around Royston Manor and Chapel over the last two decades. Their findings published in a fascinating 2018 report found that the field east of Royton Manor was possibly one of the most important Iron Age settlements in Kent. High status finds and results of excavations combine to give the impression of an amazingly intact site with a Roman road probably dating from the first century. Coins from every Roman era have been found with the site predicted to have been most important in the Late Iron Age era, overlain with Roman, possibly extending into Saxon and Medieval and standing above prehistoric back as far as Mesolithic.
KCC Planners heeded the advice of our impressive Archaeological Society and swiftly dropped the eastern part of their proposed site, proceeding with just the western part running from Royston Manor to the solar farm. This revised site is a total of 36 hectares and an estimated soft sand reserve of 3.2 million tonnes. This could take up to 21 years to excavate.
KCC have been quietly progressing their draft Mineral Sites Plan through the planning process with the Planning Inspectorate holding an Examination in Public of the draft plan in October 2019 and the Inspector publishing his final report in April 2020.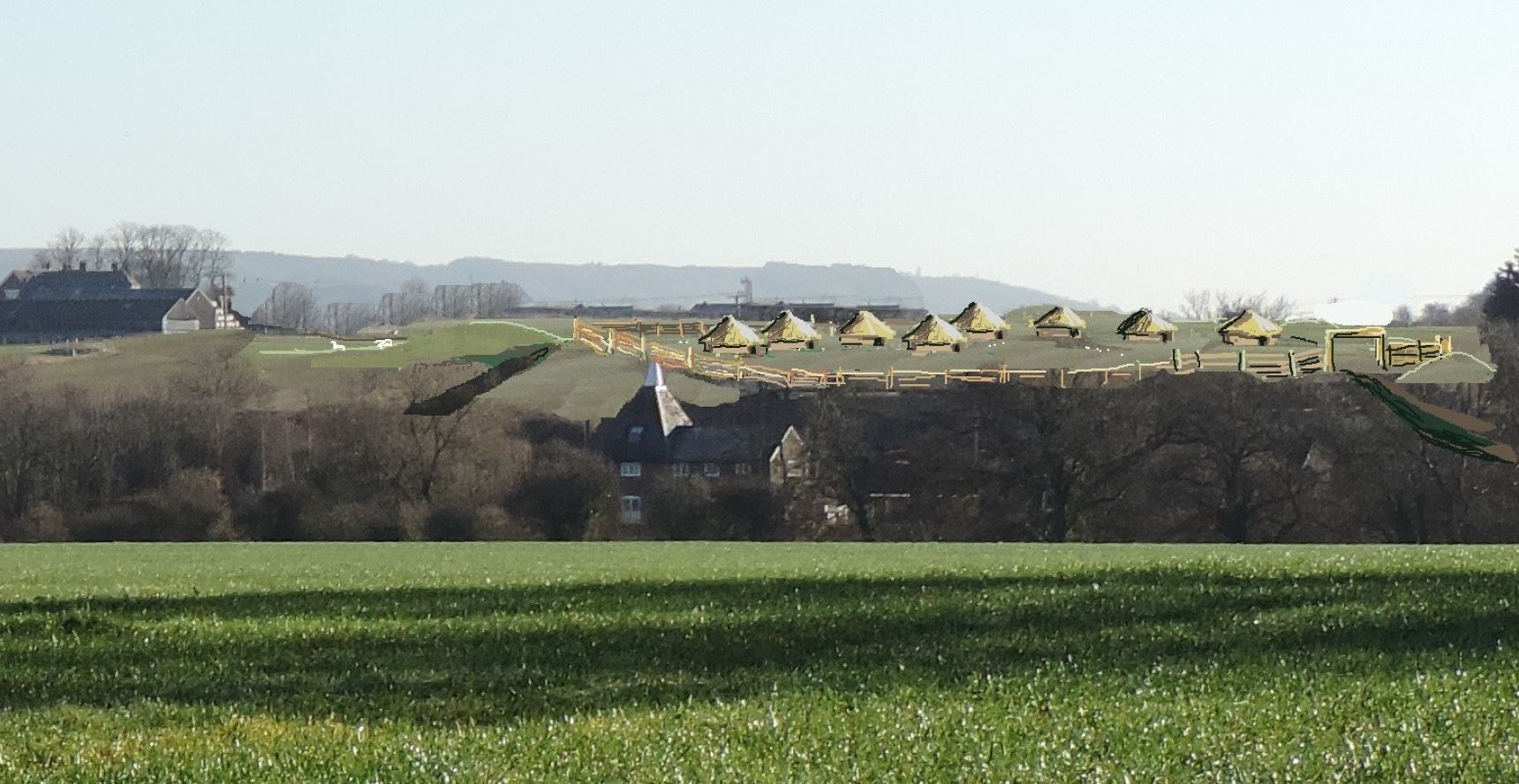 Photo courtesy of Lenham Archaeological Society – view looking east from Royston Manor depicting Iron Age Settlement
The draft plan proposed for adoption is to include Chapel Farm western site for inclusion in the final Kent Mineral Sites Plan. It is expected to be adopted in Autumn 2020. A full planning application would be required before any excavation could begin.
This causes a big problem for Maidstone's planners. The site is one of the key parcels of land in their garden community proposal.
Including the site in the Kent Mineral Sites Plan means that the priority for mineral extraction is almost definitely likely to outweigh the need for housing. The principal landowner who owns the site presumably wants to yield the royalties from mineral extraction and then immediately offer it up for housing as part of the garden community scheme after.
But how long are Maidstone Borough Council (MBC) willing to wait? The Planning Inspector noted the impact of traffic generated by the quarry and ordered KCC to make a modification to their plan to mitigate traffic impact through requiring 'sequential operation' of the site to Burleigh Farm in Charing. This means that Chapel Farm can not start until Burleigh Farm is fully excavated. The latter only received consent for extraction in 2017 and by our calculations would see the site run through to the late 2020s or even early 2030s. Chapel Farm could not start before then.
MBC now have the headache of working out how they can bring forward their garden community scheme in the absence of one of their biggest parcels of land for the first 10-20 years of their masterplan. We wouldn't expect to see houses on the western site before 2040 and unlikely before 2050. Coupled with the archaeological significance of the eastern site which would almost guarantee the protection of the Iron Age settlement, it makes you wonder how much land they do actually have left to propose building 5,000 homes on.
Have MBC really done their home work? We don't think they have.